My painting process is one of discovery and experimentation in which I explore the relationship and juxtaposition of color, line, and form. Each composition takes shape through a kind of "call and response" – an intimate conversation between the canvas and the materials I work into it: bold and opaque shapes and colors; drips and watery washes; scribbles and scratches; fragments of discarded paintings; written words and graphic elements taken from journals, sketchbooks and the detritus of daily life. Working with collage allows me to place these fragments into different constellations – ripping, arranging, placing, juxtaposing, leaning, hovering, disrupting – giving them their own unique physical presence and adding texture, dimension, and content to the piece.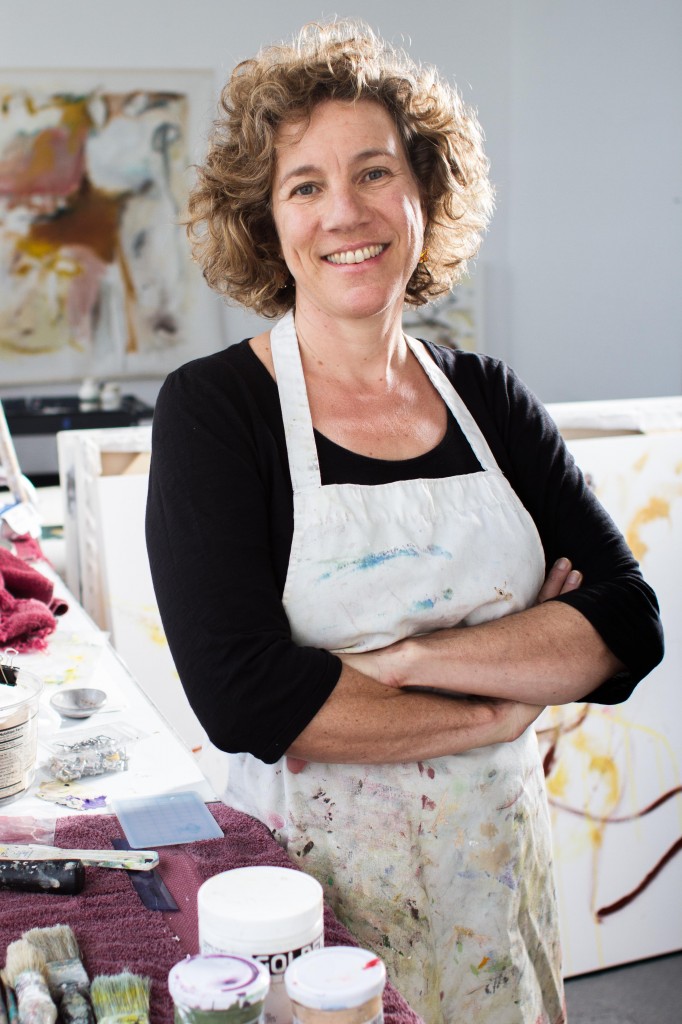 I find myself returning again and again to the idea of "sense of place" in all its myriad layers of meaning. I am exploring internal and external landscapes, the visible and invisible terrain and vistas that hold meaning and emotion for me. In my work I strive to break down the dichotomy of inside and outside, visceral and spiritual. What has evolved is a kind of mapping/cartography of experience that has material, geographic and psychological dimensions to it. Within these "inscapes" I am continually exploring the curious juxtapositions and relationships of shapes and marks on the canvas, working with the metaphors of horizons, openings and portals; bridges and crossings; nests and bowls.
Through the process of painting, I am at once making work that focuses on the pure materiality of the mediums I use, while delving into a deeply personal and emotional realm of my life experience. As the mother of a child with a developmental disability, I am fascinated by the learning process, particularly the acquisition of language and the ways in which language informs intelligence, perception, and meaning. In recent years I have been developing a body of work that explores these themes through the use of collage materials drawn from years of accumulated educational and aptitude tests, work sheets, homework, as well as my daughter's marks and artwork. Within this archive I've found a treasure trove of material to work with, the seeds of my own mark making and a significant source of inspiration for my development as an artist.